Remember that story from 2019 where Grubhub, a online ordering app, was caught creating thousands of fake company websites for to sole purpose of outranking the true owner's site so they could inject their fees into online orders?
It not only sounded shady, it was and they ended this "feature" quickly after. An important overlooked detail was that they did not only setup a fake website, they would actively then claim the website address as being official on Google My Business, which would then feature their fake website on Google Maps, in the search results Knowledge Panel, etc.
Fast forward almost one year, and we stumbled upon another contender for the "Unethical Growth Hacker of the Year, 2020".
A start-up named Slice, apparently liked Grubhub's idea so much, they started doing the same, but this time also saw an opportunity to one-up Grubhub's attempt in acquiring cheap leads to their service.
Their trick centers around the Knowledge Panel. A priced piece of real estate in the search results, and a trophy project by Google. It not only features semantic data of an entity (e.g. Local Pizza restaurant) but you can also "claim" it as your own if you are... 🥁... the owner according to...🥁... Google My Business. I think you see where this is going?
By claiming a business you can manage special elements in the knowledge panels, such as opening hours and contact phone numbers. But you can also post "news" about your business, including "interesting offers". And by chance our friends at Slice have lots of "news" on hundreds of local businesses with every single one having this amazing offer: "Order Pickup and Delivery". That is some great "offer" (sorry for the abuse of apostrophes here).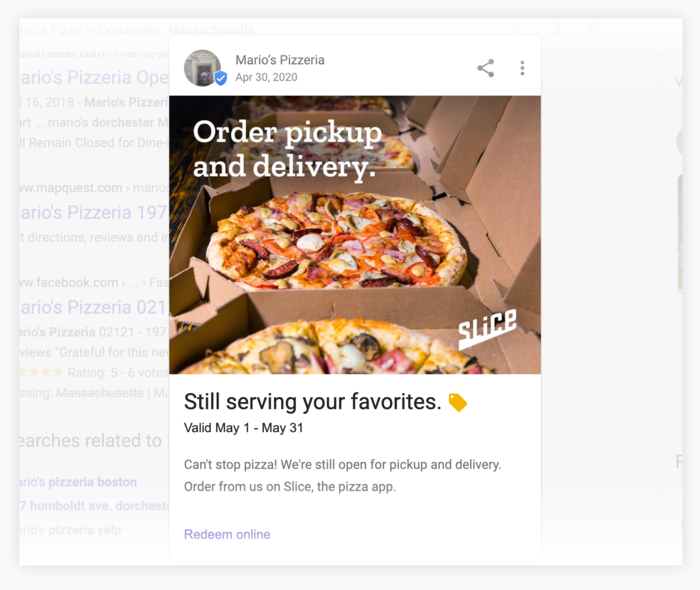 The result? Look yourself (really, click it and scroll a bit). A thing of beauty in the Valley. Slice is able to inject their marketing fluff offers and claim large pieces of the SERP, for free! (Dumb Grubhub is paying for an ad, ha!). All graced with a blue verified checkmark from Google.
In summary. Slice creates un-official websites, claims Google My Business profiles, and then starts pushing out fake "verified" offers so whenever someone searches for their favorite local pizza place, there is no way around Slice in the search results. Leading to more free clicks and installs for Slice and a sweet Slice-order-tax for the business owners.
Smart? Sure... but I think we have a potential winner for that awards ceremony on our hands...
---
Do you also spend way way too much time researching the Google SERP? I build a tool to make our lives so much easier!
Posted by
Yvo Schaap
on .